50 Creative Intranet Launch Ideas: try these today for intranet success
A copy of the new intranet's navigation

The intranet vision statement

The site URL for home access

Simple instructions for logging in

The Intranet Help email address
Idea #5: Share fun facts from employee profiles
Penn State had a brilliant intranet launch plan that sparked a lot of excitement. One aspect of launch included a series posters that shared little-known tidbits about Penn State employees. These posters generated interest in the intranet's employee profiles.[9]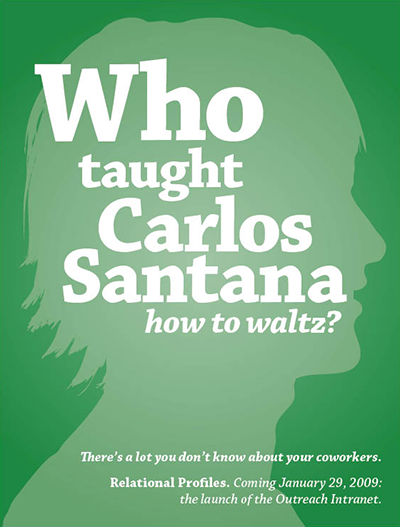 Idea #6: Distribute intranet launch welcome packages
Tangible hard copy materials  are so retro, they are almost cool again. Another piece of Penn State's outstanding intranet launch was welcome packages assembled by a team of volunteers. The welcome kit included:[10]
Booklet introducing the intranet

An agenda for launch day

A thumb drive with required documents
Idea #7: Give your intranet a strong visual identity
A few years back, Splio won a ThoughtFarmer award for best looking intranet. Their fun intranet brand started with a clever name that tied into their company culture and extended to every page of the intranet, including the login screen.[11]
Idea #8: Help super users create example profiles
By having a few engaged users (hopefully tech-savvy executives) fill out their profiles as examples, you can achieve two things. First, you'll provide recognition to a group of highly motivated users, and secondly, you'll help other users see what's possible. This approach uses influencers to promote your intranet, which means less work for you and more credibility with your users.
Idea #9: Pre-populate employee profile photos
If you have a database of security badge photos or some other repository of staff photos, consider uploading them to user profiles in advance. Replacing blank profiles with real photos will instantly bring your people directory to life. This will make your intranet look even more engaging on launch day.
Idea #10: Set up major groups and locations in advance
Your new intranet will likely have group pages for each department and company location. By adding employees to the proper group pages ahead of time you can: