50 Creative Intranet Launch Ideas: try these today for intranet success
Idea #17: Personalize the home banner
Ever noticed how the Google doodle catches your eye? The same impact can be created with your intranet home banner. Your intranet home page banner is likely the very first thing your intranet users will see when visiting your new intranet site, so it is important that it is welcoming, and that it reflects your culture and brand. The latest release of ThoughtFarmer makes it easy to have multiple themes on your site at once.  [13]
Idea #18: Accumulate some pre-launch testimonials
Potential intranet users will be more likely to test out the intranet if they see or read a review from another user. Hopefully by now you have a small team of super users who are familiar (and passionate) about their new intranet and keen to write a testimonial. Testimonials from super users are much more captivating than just trying to convince potential users with your own words.
This is the day you have been preparing for! If you want employees to have a good first impression of your intranet, it must be immediately interesting and useful.  Don't hold back—no idea is too wild for launch day.
Idea #19: Create an intranet launch video
LPK, a design and branding firm, launched their intranet with this entertaining video designed to look like a movie trailer. But don't worry,  your intranet launch video doesn't have to be that elaborate. We also had a recent customer who got their President and CEO involved in the creation of an intranet launch video[15]. [14]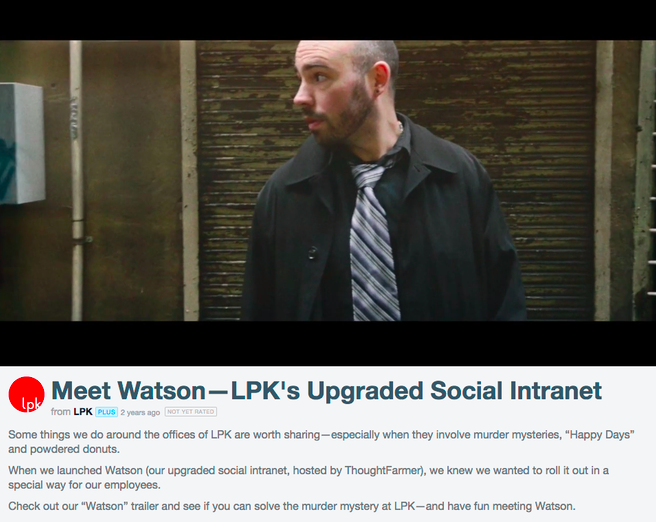 Idea #20: Run an intranet scavenger hunt
Nigel Williams, former intranet manager at Romec, led a successful intranet treasure hunt as part of the launch of their new intranet. The competition was designed to build familiarity with the new intranet and offer an excellent prize worth winning—a trip to New York City! Learn more about what makes Nigel Williams a successful intranet manager in an article from our Real Intranet Managers blog series, Nigel Williams is a workplace anthropologist.[16]
Idea #21: Connect with virtual employees through video conference
For dispersed offices, an intranet launch is the perfect opportunity to bring people together. By hosting a video conference, you can introduce your new intranet software, and show it as a global resource.