50 Creative Intranet Launch Ideas: try these today for intranet success
Idea #29: Leverage internal instant messaging applications

The decline in internal email open rates has created a demand for instant messaging platforms like Slack. If you currently use Slack, it can be an additional way to promote your new intranet or share teaser images.  ThoughtFarmer's Slack integration makes it easy to share, search, or link to intranet content within Slack. 
Idea #30: Make it a form-idable event
If you are still relying on old fashioned paper forms, you can now transfer them online within your intranet. As part of a launch day strategy, create a contest, and award prizes to the first five employees to submit their vacation requests through the new online form builder. Not only will this help automate some processes, but it will also help employees become familiar with completing online forms. In ThoughtFarmer we have a built-in form builder which makes it super simple to create. You can learn more about it in this brief tour.  [17]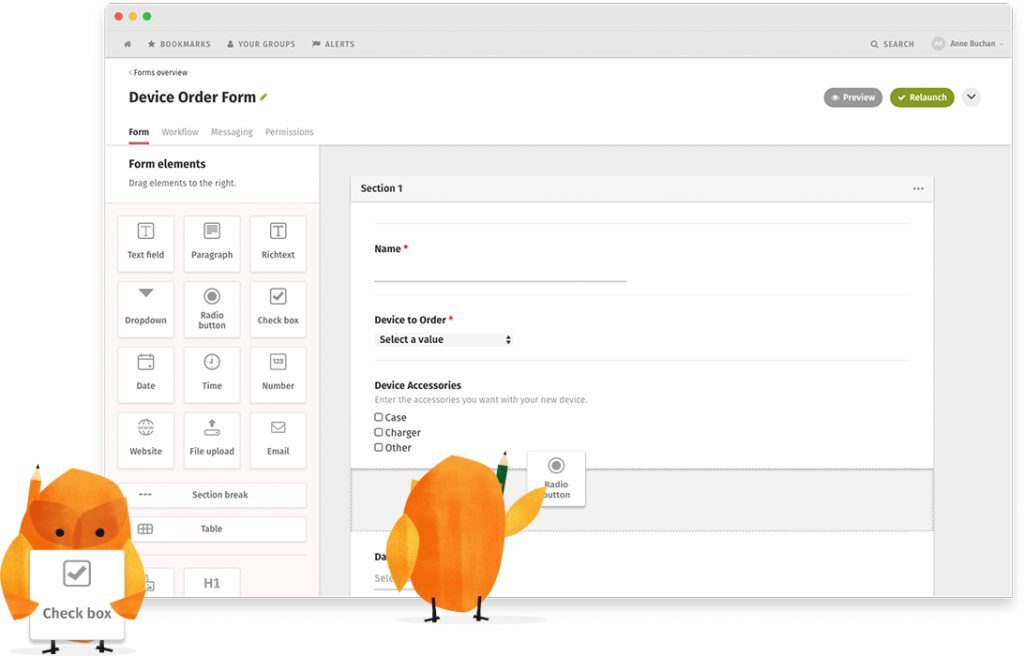 Idea #31: Get leadership involved
ThoughtFarmer customer Southern Star Central Gas Pipeline wanted their intranet launch to be fun and exciting, so they created a very imaginative yet humorous launch video. Their launch video, featuring the company's President and Chief Executive Officer, highlights all their previous intranet's shortcomings in a humorous way (click here to view it). [18][19]
This served as a good teaser for all the new and engaging features they were about to enjoy with their new intranet. Even more importantly, it sent a strong message that leadership supports the new intranet. Having leadership support for an intranet can go a long way in achieving adoption, and helping your intranet succeed. 
Don't let the excitement of launch day wear you out. If you want to sustain solid adoption metrics[20], your intranet will require an ongoing commitment of post-launch activities.
Idea #32: Enable Shout-outs
Employee recognition has a big impact on employee satisfaction—especially if it's sincere and spontaneous. A Shout-outs section lets any employee contribute new posts, allows commenting on every post, and sits in the global navigation. This is empowering for both the people offering kind words and the recipients of congratulations.[21]