50 Creative Intranet Launch Ideas: try these today for intranet success
Idea #46: Launch a poll
The secret to sustained intranet adoption is to populate it with content that employees will read. A quick and interactive way to understand what employees want to see on your intranet is through a poll. The latest release of ThoughtFarmer makes it easy to add a poll card to a news post. The result? Instant feedback on how employees are feeling about a new intranet, or what content they want to see. 
Idea #47: Launch a survey
As mentioned above, a poll is a great way to immediately gauge interest. However if you want a deeper dive into how employees are truly feeling, it's worth sending out a survey. An intranet survey will provide deeper insight into questions relating to the findability of content,  navigation, or general satisfaction with a new intranet.  You can learn more about this by reading the posts How to Create an Intranet Evaluation Survey, and Designing, Launching, and Analyzing an Intranet Survey. [25][26]
Idea: 48
:
Gamification
A few of our customers have incorporated gamification elements to keep employees constantly coming back to their intranet. Our Customer MedData set up a system that awarded badges for intranet related tasks such as commenting on a discussion, completing an employee profile, and completing relevant learning modules. The result was immediate adoption after launch and sustained engagement. [27]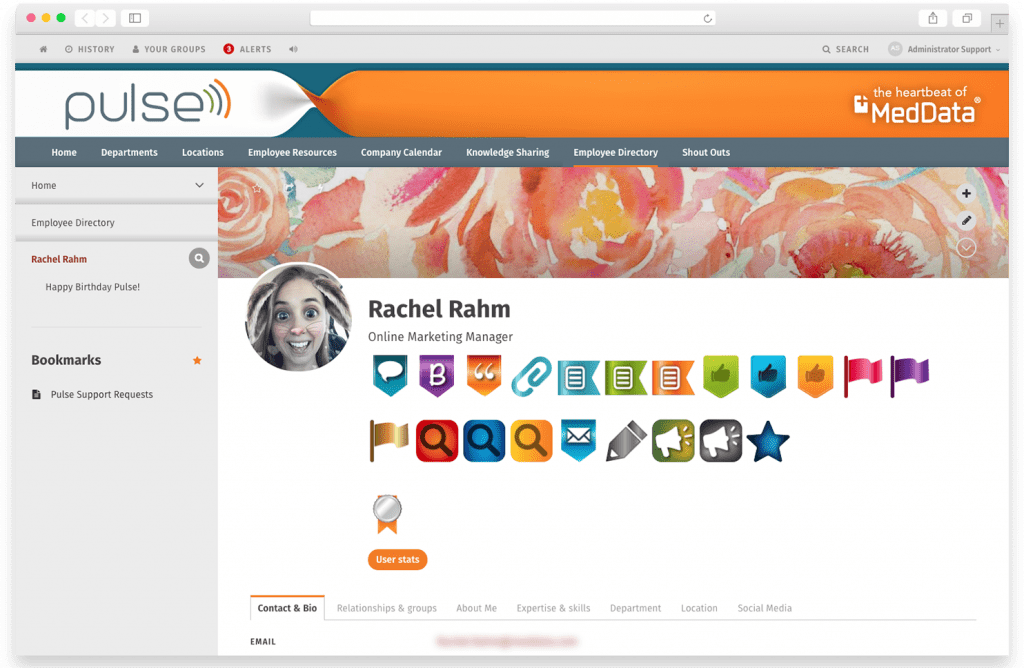 Idea #49: Audio Notifications
We are always amazed at the lengths some of our customers go to to achieve intranet adoption. For example, healthcare company MedData configured a gobbling turkey auditory notification to engage intranet users during Thanksgiving.  As silly as it may seem, creating auditory notifications is a great way to alert employees (especially new users!) when they receive a new notification on their intranet.
Idea #50: Launch a Pet Photo Gallery
While employee-centric stories and photos attract a lot of attention, it's often the pet galleries that get the most return visits on an intranet. If you haven't already set up a pet photo gallery, now is the time to launch one. You could even make it a competition and have remote working employees share photos of their newest 'furry colleagues' snuggled beside them.